2018's God of War has finally come to PC. It's hard to believe the game is four years old at this point, but the critically acclaimed father/son adventure has arrived on Steam in the form of an excellent port. If you're a PC player who's always wanted to try the former PlayStation exclusive but didn't own the necessary console, you're in luck. However, its presence on PC could yet yield further benefits - and I don't just mean those mods you can't wait to laugh at.
See the trailer for the God of War PC port here
Walking Kratos through Midgard with Atreus at his side, it's easy to see why the game was praised for its visuals. The snowy environment is borderline idyllic, even when enemies are doing all they can to kill you and subsequently the peaceful vibes. God of War treads a line between walking simulator and action/adventure game, and it's an odd but well-executed mix.
The combat is fun, combining hack-and-slash elements and beat-'em-up styles with nifty ranged weapon mechanics. You can hurl your axe at distant targets, and recall it at the click of button, making for some truly satisfying hits. You also have Atreus' bow, which he'll fire at your command. As well as being integral to progressing the plot, the young lad's arrows are a useful tool when taking on enemies.
RPG elements flesh out God of War. As you play, you can unlock and equip new armour for both Kratos and his boy, boosting stats like attack, health or resistance to certain types of damage. This means that you can tailor your gear to each section, based on the enemies you encounter, and so on.
There are also skills and abilities to unlock, letting you add new moves for Kratos to use in combat, or increase the length of his Spartan Rage - a mode that briefly grants him exceptional strength, but is restricted to limited use. These improvements can be made through earning and spending experience, or by finding collectible items around the world.
But exploring these realms for perks and pick-ups isn't exactly as satisfying as it says on the brochure - and sadly, surveying the landscapes in God of War is often quite basic. As I said, the environments can be beautiful, but they often feel like corridors, with chests and items hidden in easy-to-find corners. Some require a bit more effort, but the "hidden" areas being so apparent makes the exploration feel truncated, and all but pointless.
Compare the map layout of God of War to other PlayStation titles like Uncharted 4 or Horizon Zero Dawn - both of which are older games - and it's hard not to feel as though corners have been cut here. I know they're all different games in key ways, but when Atreus tells Kratos he's "found something" while you're looking at a barely concealed chest, it breaks the immersion.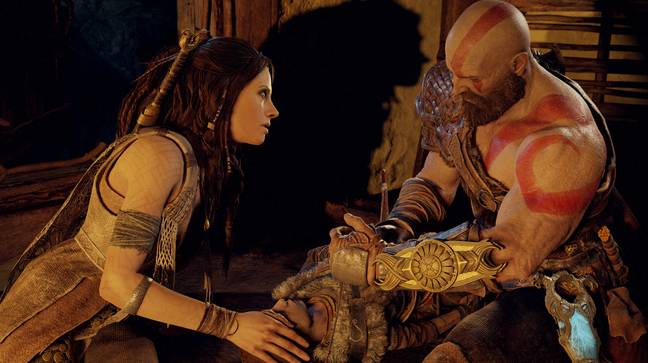 That mild gripe aside, the story of God of War seems to be its biggest pull. Without spoiling anything, Kratos and Atreus set out on a grand journey up a mountain. Adversity is everywhere, but that doesn't stop our Angry Spartan and son from meeting interesting, co-operative NPCs. In this area, the game shines brightest. Even if you're not a fan of the protagonists, the characters who inhabit these lands of Norse mythology are a joy to behold.
Overall, God of War coming to PC feels like a big win for PC gamers who either don't want to own a PlayStation or simply prefer to play off the TV. This is one of 2018's most beloved games - and one of PlayStation's, too - so its release is to be welcomed. But the bigger win here is surely the potential for more PlayStation games to follow in its footsteps. With Horizon Zero Dawn, Days Gone and now God of War being so well received on PC - and with Uncharted waiting in the wings - there's a strong argument for the rest of the best Sony exclusives to follow suit. We're looking at you The Last of Us, Bloodborne, and Persona 5 Royal.
God of War was tested on PC with code provided by the publisher. The game releases January 14, 2022 for PC.