As I write these words, my eldest cat is currently curled up on my desk. Her fluffy, flabby tummy is sagged lazily over my laptop's fan, prompting my machine to work that much harder to avoid overheating. I don't have the heart to move her.
Outside, my 10-month-old kitten scratches frantically at the door to the office in an attempt to get in and play - "play" being a concept that the older cat abandoned somewhere around 2014.
Between the incessant scratching and the gradually overheating laptop, it's getting harder to concentrate. Kitten has now scratched up so much of the carpet by the door that it looks like an intentional renovation. In response to kitten's attempts to enter the room, old lady cat has stood up, turned around, and vomited over my notebook.
Yep, cats are assholes. But how can you not love them?
Stray, the debut adventure game from indie developer BlueTwelve Studio and publisher Annapurna Interactive, is a game that knows the most important thing about playing as a cat is to let you be as annoying as felinely possible.
"Getting that right was always very important," laughs BlueTwelve producer Swann Martin-Raget. "A huge portion of the team are cat owners - or owned by cats, depending on how you see it. We all have this loving relationship with our animals, but we also know very clearly how cats can have a bit of a… temper.
"We also have cats in our office that work with us every day. Sometimes they turn off the computer when you're about to save your work, or start 'singing' during an important call. So it's a very nice reminder that even though they're absolutely cute and adorable, they also have their own personalities. Having that in the game was really important from the start."
This is immediately apparent from the opening moments of Stray. There are dedicated buttons for scratching sofas, meowing at any point, and basically being a little prick as much as possible. Even the game's puzzles revolve around pushing objects off shelves and breaking things, a famous pastime for cats everywhere. One early scene I saw during a gameplay demo involved a tin of blue paint, a broken window, and a living room ruined by blue pawprints.
Stray takes place in a stunningly detailed underground city inhabited by ramshackle robots that our hero, an unnamed stray cat (based on a real-life chonk called Murtaugh who you can see above), must work with to find its way home. Across the roughly seven-hour adventure, you'll meet a loveable cast of characters, solve puzzles, and slowly unravel some of the stories hidden across the world.
The game itself is packed with detail, from the neon street signs that illuminate the grimy puddles, to the labyrinth of narrow alleyways and passages that only a cat could explore. The game world, which was originally inspired by Hong Kong's now-demolished Kowloon Walled City, has been designed as a vast playground for our feline friend. Naturally, this presented a unique opportunity for BlueTwelve to allow players to explore these predominantly human (or robot) environments in a truly novel way.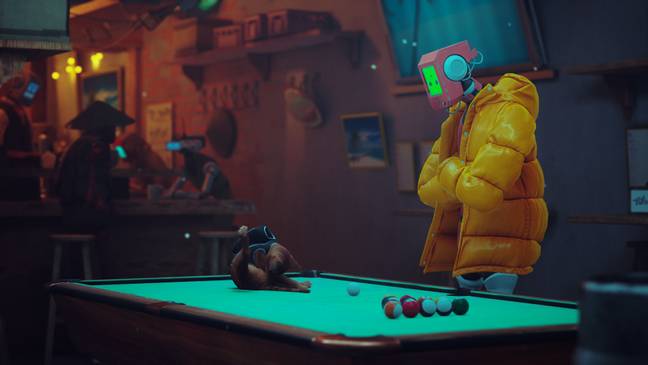 "Stray has a challenging relationship between level design and art because all the decorations that are usually just there are largely platforms in our case, and you can actually go there and see the level from that angle," Swann explains. "There were a lot of play tests, you know, moving around the levels to make sure that we were optimising the world. Building to make it consistent and nice to play around in."
One of the most important design choices the team made early on was to ensure a smoother platforming experience. The cat will be able to jump from platform to platform with precision and ease. Although I've definitely seen my cat miss the jump from the sofa to the coffee table a few times, it's pretty rare you'll find a cat that's completely devoid of coordination. But how did the team ensure this semi-automatic platforming remains fun, interesting, and challenging for players? BlueTwelve saw it as a chance to turn platforming into yet another type of puzzle.
"In terms of level design, there are always several paths that you can take and some that are restricted," Swann tells me. Working out where you can and can't go, or how to get to a certain vantage point, is a challenge all in itself. There are also plenty of hazards for the cat to avoid, from spikes on certain signs and platforms that prohibit progress, to more otherworldly threats.
Somewhat surprisingly for a game this adorable, Stray isn't without its moments of genuine terror. Aside from some fiendish puzzles, there are some fairly intense chase sequences and even one or two instances of combat and stealth later on in the game. Yes, the cat can die. But are you going to let that happen? Of course not. That would make you a monster. For the most part, however, Stray is mostly centred around gentle exploration and puzzle solving, with several "open-world" style areas filled with quests and tasks that can be completed at your own pace. Seeing it all can take between seven to nine hours, according to BlueTwelve's latest estimate - just the right length in a world increasingly dominated by 300-hour AAA slogs.
"We didn't start with a precise objective," Swann explains of the game's length. "Sometimes the story and the rhythm dictates the amount of levels or situations that you can come up with. But I know that quite a lot of people in our team feel that sometimes having a shorter experience can be good. One that's really polished and that really gives you the emotions that we want to give, and doesn't drag on for hours with filler material.
"As players that's the type of thing that we enjoy, or at least me personally. I enjoy having a game that respects my time and just gives me the top quality of what it can provide. That was always the goal in terms of level of detail and polishing. So because we knew we wanted to remain a small team, we always knew the game was going to be a bit on the short side."
One thing BlueTwelve weren't prepared for was quite how huge Stray was going to become. From the moment the first footage of the game was shared online, it blew up on social media in a way that took the developer completely by surprise. Flattering? Of course! But there's a lot of pressure there, too, especially given this is the studio's debut game.
"We were not prepared and we still are not!" says Swann. "We really are always surprised and always humbled, but because the game isn't out yet it does add quite a lot of pressure to what we do. We want to do it right. I don't think [the reception] changed anything in our approach because the idea of the game was quite far along, but it definitely added a desire to really have this experience be as polished as possible. And especially for cat owners who are going to play the game. They're as expert as we are, so they're going to get all the details! We are absolutely thrilled by the reception so far. But yeah, it's intimidating."
From what I can see, it looks like BlueTwelve has nothing to worry about. Stray is shaping up to be one of the most interesting video games of 2022 - one that finally attempts the seemingly impossible task of working out what on Earth is going on in a cat's head at any given moment. Open-world games with human protagonists have had their time in the sun. I'm more than ready to step into the fluffy shoes of an adorable creature that could poop on the floor at any moment.