When The Matrix Resurrections was announced, I'm not sure any of us knew what to expect. Would it be a soft reboot? Would it be a direct sequel to the previous movies? Would the Neo and Trinity we see in the trailer be the same characters we know from the original trilogy?
One thing is certain, I didn't expect the new Matrix film to contain an insightful critique of the video games industry. And yet, here we are. Mild spoilers to follow, so only read on if you've seen the movie, or don't care about knowing some plot details.
See Morpheus actor Yahya Abdul-Mateen II talking about fighting iconic gaming characters here
For those of you who've seen the movie, you'll know that Thomas Anderson, AKA Neo, begins the story as a game developer. He's currently preoccupied with a game called Binary, but we learn he once made a seminal game called The Matrix.
This fictitious title seems to tell the story of the original movie, and was born from Thomas' imagination, so he thinks. It was so good that Warner Bros. (who are specifically referenced in Resurrections) want to *ahem* resurrect the franchise.
They make it clear that they will do this with or without Thomas, and what follows is a mentally struggling Neo being all-but-forced into a creative process that seems devoid of any joy or appreciation for the artistry of video games.
Neo is surrounded by characters who want to make a game that sells, using a respected name to generate a product that doesn't seem to have the proper blessing of the original creator. I wonder if there's a real world example that Keanu Reeves may have drawn inspiration from…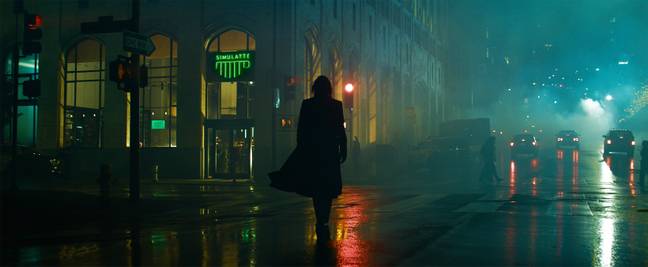 The Matrix Resurrections holds up a mirror to the games industry, and arguably any big money business that twists creativity to suit imagined financial metrics. It does so with courage and seemingly acute awareness of the subject, and it's to be commended.
In fact, even the recent Unreal Engine 5 Experience bears its fangs, with the in-game Neo/Keanu Reeves saying, "Agents are bad but, whatever you do, stay the hell away from marketing." Wise words, indeed.
Whether this element of the film is directed at the past Matrix games, or something else entirely is unknown. Maybe writer Lana Wachowski is passing comment on a specific thing, but one thing is clear: The Matrix Resurrections will ring true for a lot of people with its depiction of the games industry.