There's a sordid pleasure to beating someone at a video game. I'm not referring to the smug satisfaction of proving you're the better player. After all, winning often isn't based on skill. No, I'm referring to the schadenfreude of seeing someone else lose. The relatively innocent thrill of earning the top spot isn't as enjoyable as watching someone fail, and the Mario Party series - including the new Mario Party Superstars - is perfect for this dubious sense of fulfilment.
See the trailer for Mario Party Superstars here
The first thing that stands out about Mario Party Superstars is the minigames. There are 100 of them from across the series, and all ready to go from the off. Fans of the series will recognise many favourites here. There's 'Booksquirm', where you have to find the gaps to avoid being crushed by falling pages. You've got 'Face-Lift', which tasks you with distorting Bower's visage until he resembles a Picasso painting, and there's 'Tug o' War', where you recreate episode four of Squid Game (except in the show they play the rope-based game to the death, so maybe they aren't that similar).
You don't have to unlock any of these games, which is a good or bad thing, depending on your perspective. Personally, I love having access to them all immediately, but I understand why some would rather unlock them through playing the main game mode, the aptly titled 'Mario Party'.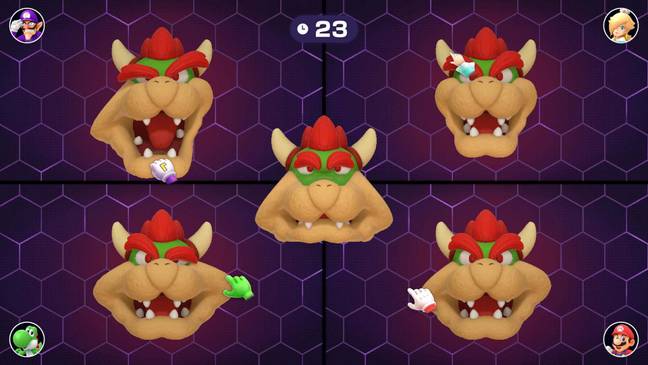 The adventure sets you and three other players (human or AI) on one of five enormous game boards, all of which are from Nintendo 64 era titles. Your job is to roll dice and traverse the many spaces in the hunt for stars. These pointy customers are the main currency of Mario Party Superstars, with the player who has the most at the end of the game being declared the winner.
You can find them on the board and pay the 20 coins they cost to earn one, or you can be more *ahem* creative with your methods. For instance, you may find a Boo space, letting you enlist the ghost to go and rob one of your fellow players of their hard-earned bounty. There's also the chance of earning bonus stars at the end of the game, for accolades such as winning the most minigames, or landing on the most Happening squares. There's always a way to pull the rug out from under your rivals' feet.
Not everything is unlocked straight away in Mario Party Superstars. As you play, you'll earn coins which can be spent in Toad's Shop. You'll find stickers, which function as messages/emotes when playing, letting you express your current emotional state with an image of Bowser saying "BWAHAHA!", or a Goomba with the text "Cut it out!" written across it.
There are also music tracks and encyclopedia entries to collect, as well as card designs. The latter items are available for customising your Mario Party Card, which shows information like your name, level and time played. It also shows your favourite game, board and minigames from the franchise, which is a nice personal touch.
All of these options are available in the 'offline play' section, which runs off a single Nintendo Switch console. There's also a 'local play' option for combining with other Switches, and 'online play' for playing with "people far away", as the game cutely puts it. At time of writing I have been unable to test 'local play' or 'online play', but I have every faith in these modes as Nintendo have shown themselves to be adept in this arena, particularly with games like Super Mario 3D World + Bowser's Fury. I speak from a gameplay and connectivity standpoint, of course, as we know Nintendo don't include a chat option in their games.
Mario Party Superstars comes with an array of difficulty options, from 'easy' to 'master'. While easy will be good for younger players and those who want a more chill experience, 'normal' mode adds a more balanced gameplay feel for if you want some degree of challenge during the minigames. However, when you turn it up to master difficulty, you have very little chance of getting the W. The AI characters don't so much become better as they become broken, but it's no big deal because if you're choosing the toughest difficulty, you likely don't want it to be fair anyway.
A handy addition is the ability to add turns to your current game. This is a nice option for extending a particularly fun session, but be warned that those extra turns could be your undoing. Basically, be tactical if you care about winning, and don't let your ego give your stars away.
Overall, Mario Party Superstars is the best game in the series I've played. The abundance of minigames is excellent, and having them all available immediately is ideal. The unlockable items are fun to unlock, with plenty of customisable options for your in-game emotes. While it may seem like an easy game, there's still plenty of fierce multiplayer duels to be fought within, so fans of the classic Mario Party experience are in luck here. However, if you steal stars then you deserve everything you get.
Pros: 100 classic minigames, plenty of gameplay variety, one for the fans
Cons: Master difficulty feels broken, not everyone will like having all minigames immediately
For fans of: Mario Party series, Super Monkey Ball, Among Us
8/10: Excellent